CHALLENGES / BUILDING SECTOR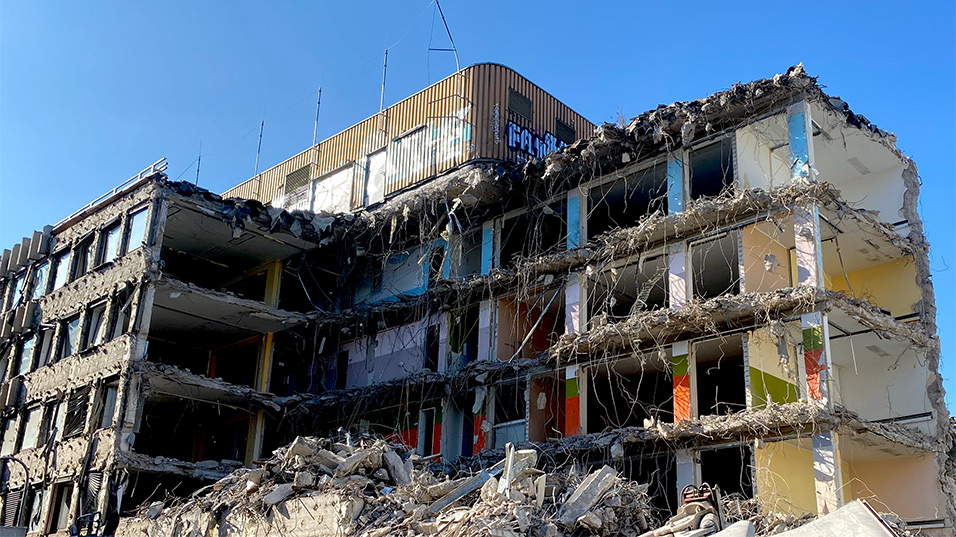 LACK OF FLEXIBILITY
increasing demand to repurpose/reconfigure buildings due to changing needs and contexts (technological advancements, economy, demographics, climate, etc.)
common practice today: "demolish and build new" as current buildings lack the ability to adapt

leads to a significant loss of energy, material, meaning & economic value

high costs
lack of resilience
risk for "stranded assets"
HARMFUL
building sector responsible for

approx. 37% of CO2 emissions (globally)
50%+ of waste (globally)

not aligned to

EU-Taxonomy
SDG's
upcoming regulations

billions of tons of valuable material are stored in our built environment and can't be reused, because everything is "baked together" (due to concrete, adhesives, etc.).
only 1-8% of materials used for buildings are re-used, which translates into high economic, social & ecological costs and sensitive supply chain dependencies.
COMPLEX & RISKY
associated with multiple risks, high stakes, many stakeholders and uncertainty
lack of security regarding costs/financing, timeline, quality of outcome, on site-conditions., etc.
changing needs/contexts are hard to anticipate
remodeling/reconfiguring is often a complex, costly & time-consuming process.
BUILDING AS USUAL = NOT FUTURE PROOF
The list of challenges could easily be extended and illustrates the significant ecological, social and economic potential of future proofing the real estate sector. To unlock this potential, transformative, circular and scalable solutions are required. This is what F2K is going at.