Following a design approach that aims at creating fully circular and adaptive buildings, we develop future-proof solutions for the present. By reimagining houses, we adjust them to a human-ecological scale and facilitate the emergence of a sustainable and attractive lifestyle.
To accelerate the transition of our concept for circular, climate positive and adaptive buildings into scalable products, F2K formed partnerships with Arup – one of the global leaders in engineering, planning and architecture – and the Institute for digitization of the construction industry (University of Duisburg Essen). Together we conquer uncharted circular and digital territory and explore circular business models for the benefit of our customers and our home planet.
F2K's first product development is the ADPT-building kit. Current Status: Prototyping – production of first two building blocks as proof of concept. The first prototype has been successfully realized in 2022.
The Four Basic Principles
Build
With ADPT, building your house will be easier than ever at every step of the journey (a bit like "Plug n' Play").
Scale
ADPT is modular and scalable (Think "Lego"). It's customizable, allowing maximum flexibility to adapt to your needs and site.
Evolve
ADPT is made to evolve with you. If life or contexts change, your building can change with you.
Cycle
Every element of ADPT has been designed with circularity in mind for a future proof and healthy lifestyle.
Adaptive – From linear to circular
Linear processes are energy- and resource intensive, lead to waste and incentivize planned obsolescence. Does not sound too good to us. Applying circular economy principles to the building sector in a way radical enough, to have a positive and significant impact on climate and resources when scaled, requires to completely change the way buildings are imagined, planned, realized, operated and dealt with at the end of their lifecycle. Such a "radical" circular mindset led to developing the "ADPT-building-kit". ADPT is keeping modules, elements and materials at their highest value, by circulating them internally within the ADPT-system and by implementing circular business models and processes on various levels.
Simply modular –
Good for nature and unparalleled degrees of freedom for users
Buildings within ADPT are made up of different layers with different lifespans. The individual layers are separable from each other, allowing reusability, recyclability and customized exchange. At the end of their life-cycle, the buildings are not waste, but material banks where valuable modules, elements and materials are stored, waiting to be monetized, reused or refurbished and applied elsewhere. The inherent constructive flexibility is the basis of the Lego-like building-kit and also provides more degrees of Freedom than any other solid house. Change it, modify or move it. Or just leave it as it is. After all it's a house and not a van. All choices are in your hands.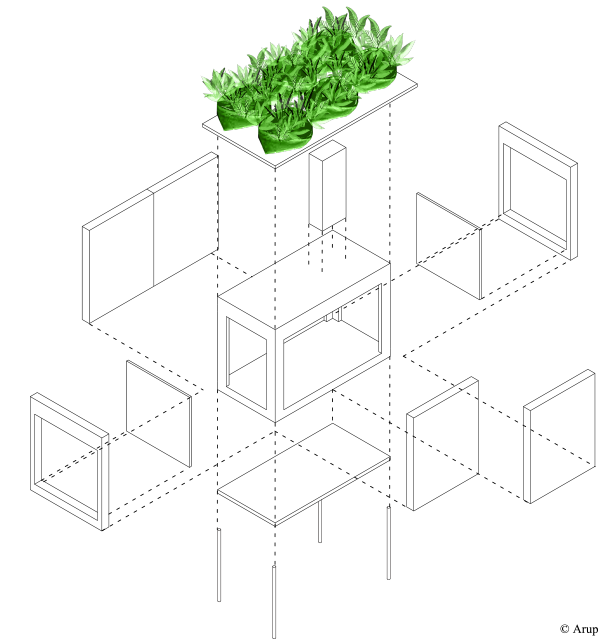 Simply circular
ADPT in Context…
Can: start big or small, grow, move, transform, modify etc.
Use scenarios: diverse single- or multi-unit buildings such as new homes, workspaces, campus buildings, urban ecoVillage, vacation houses, extensions including roof tops, etc.
ADPT facilitates…
Human centered and individualized design
Scaling of circular solutions
Circular business models
Utilization of digital processes (Blockchain / Ontological Networks)
Quick learn- and adapt-loops
Source from…
Bio- and recycle-based materials
ADPT offers maximum flexibility. The building system can be added to, expanded, downsized and repurposed as needed. The modules can even be easily relocated from one place to another as needed.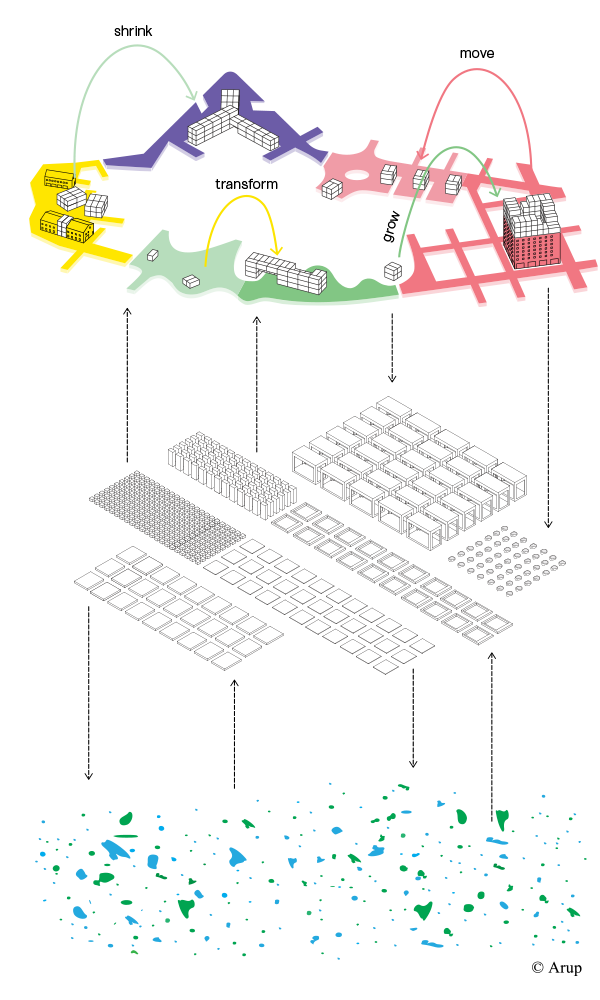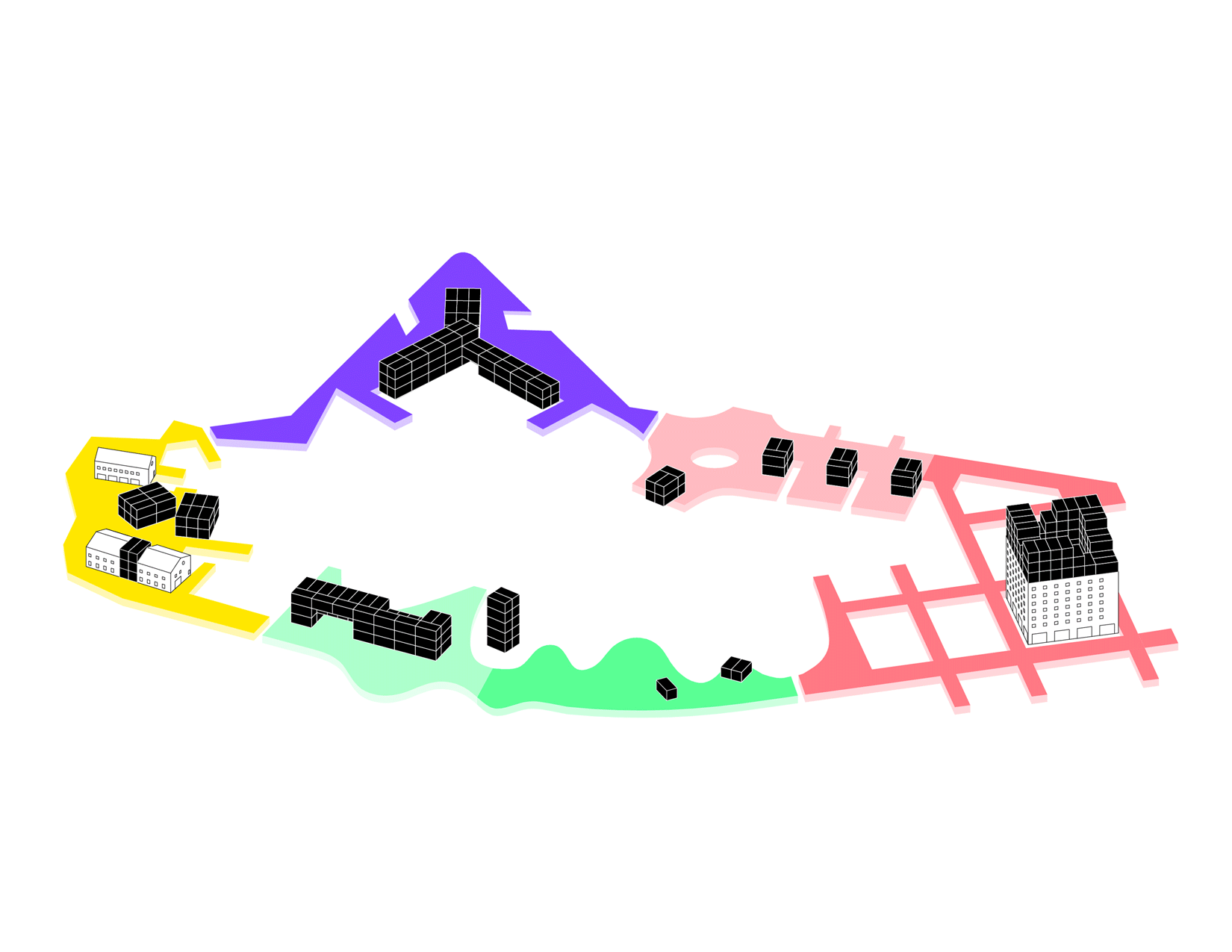 The flexibility of the "ADPT"-kit is the enabling factor to reimagine what a building is and can be. ADPT buildings can morph into different shapes, dimensions and functions for a variety of use scenarios. Examples are family-houses, residential-, office- or campus-buildings. Further options are redensification of existing urban structures, topping up existing buildings, or a small hideaway in a scenic environment.
The larger building structures are based on multiple interconnected building blocks. Due to the innovative ADPT connection System, even those larger building structures are completely reversible and can be expanded, modified and reallocated on demand.
We successfully finished Development phase 1 in 2022, where structural elements and material exploration have been in focus.
Material related circularity
84%
2 times durability of BAU
100%
Available for reuse and recycling after lifetime
68%
Aiming at climate positive solutions and zero waste, we made great progress with our first prototype. One example of many: more carbon is captured in the product than emitted throughout the entire production phase. With the new learnings and experiences from the last months, we can't wait to start round two.
We are thankful for having been granted the opportunity to showcase the very first prototype of our adaptive, circular and scalable building system at one of Germany's most renowned Museums: Museum Folkwang. "Building block No 1" has been chosen to become part of the museums 100-year anniversary exhibition "Folkwang and the city", which is dedicated to "important future issues and the role of art and culture in current transformation processes" with a special focus on how we want to live.
"Building Block No 1" was a great opportunity for us to explore circular materials and the constructive innovations we need for our adaptive building system. We are thankful for everyone who contributed and enjoyed to celebrate this first step of the development journey right at the Cities major roundabout, where our module has been a central element of the "ecoVillage" installation. This "Non-place" which hardly played a role in the thoughts and hearts of the citizens has been successfully transformed into a temporary green habitat for three months. Right in the middle of Germany's biggest urban agglomeration international artists, decision makers, locals and eco-impact-start ups came together to explore the opportunities of a future proof tomorrow today.
Impressions from site / exhibition opening
Partners
Bringing ambitious ideas to life is only possible within a network of strong partnerships and with the support of excellent and creative minds. We are thankful for everyone who became part of the ADPT development already and learn from and with our partners every day. It's them who allow us to transform our vision into physical reality, pushing boundaries in order to execute the plan as intended. Or better ;)
PRODUCTION PARTNER (PROTOTYPE DEVELOPMENT)
Stay tuned. More to come soon.
Or connect with us. Become part of the F2K-development via social media or send us an e-mail. Enabling a future proof lifestyle will require joint forces.
Futur2K GmbH
Kahrstraße 23
D–45128 Essen