Creating adaptive buildings, we develop circular solutions for future-proof office- and residential space. By reimagining buildings, we adjust them to a human-ecological scale and facilitate the emergence of a sustainable and attractive lifestyle.
We develop adaptive buildings to achieve more freedom, resilience and peace of mind for our customers and to accelerate a successful transition towards a fully circular industry that allows people, planet and economy to thrive.
To execute this mission, Futur2K (F2K) is currently developing a scalable building-system for regenerative and high-quality office- and residential-buildings, which are reusable and customizable and can adapt to changing needs and contexts over time. This building-system is called ADPT.
CURRENT DEVELOPMENT STATUS
The production of the first small-scale ADPT-prototype has been successfully completed. The prototype ("Building Block No 1") has been unveiled at Museum Folkwang's Exhibition "Folkwang and the city" and has been updated for the next chapter of the journey: the ADPT-module is now part of the Unesco World Heritage Site Zollverein.
If interested in upcoming milestones and current development-steps, you can find all updates on our social media channels.   /  
Setting a new standard for future-proof office- and residential-buildings.
Three Basic Principles
Freedom
ADPT-Buildings can be freely customized to perfectly align to individual needs and specific building-sites. In addition, they provide the freedom to evolve with you over time. If your needs or contexts ever change, ADPT-buildings change with you, making sure that you always have the building setup you need. No more, no less. More flexibility means more freedom to adapt and thus, more resilience.
Resilience
ADPT is developed to resynchronize our way of living with nature, contributing to local and planetary conditions that enhance comfort, health and performance. Establishing a radical circularity-framework at the core of the system, facilitates reusable buildings which are able to regenerate and adapt like the cells of a living organism. Thus, ADPT-buildings don't loose function, value and meaning over time. They reduce CO2 emissions and waste and enable a new degree of durability and resilience.
Peace of mind
The ADPT-system is designed for peace of mind. Reducing complexity and risks, while providing transparency regarding costs, construction time, sustainability data and building-performance, enables informed decisions. Prefabrication is key to design out long time-periods of noise, dirt, weather dependent risks and other unpleasant aspects on site. Knowing that your building is a future proof asset, in congruence with regulations, while featuring a human centered design, which has a positive impact on health, performance and cognitive abilities, might add to inner equilibrium as well. That ADPT-buildings can respond to unforeseeable changes, means less reasons to worry about an unknown future and more resources to focus on what is important now.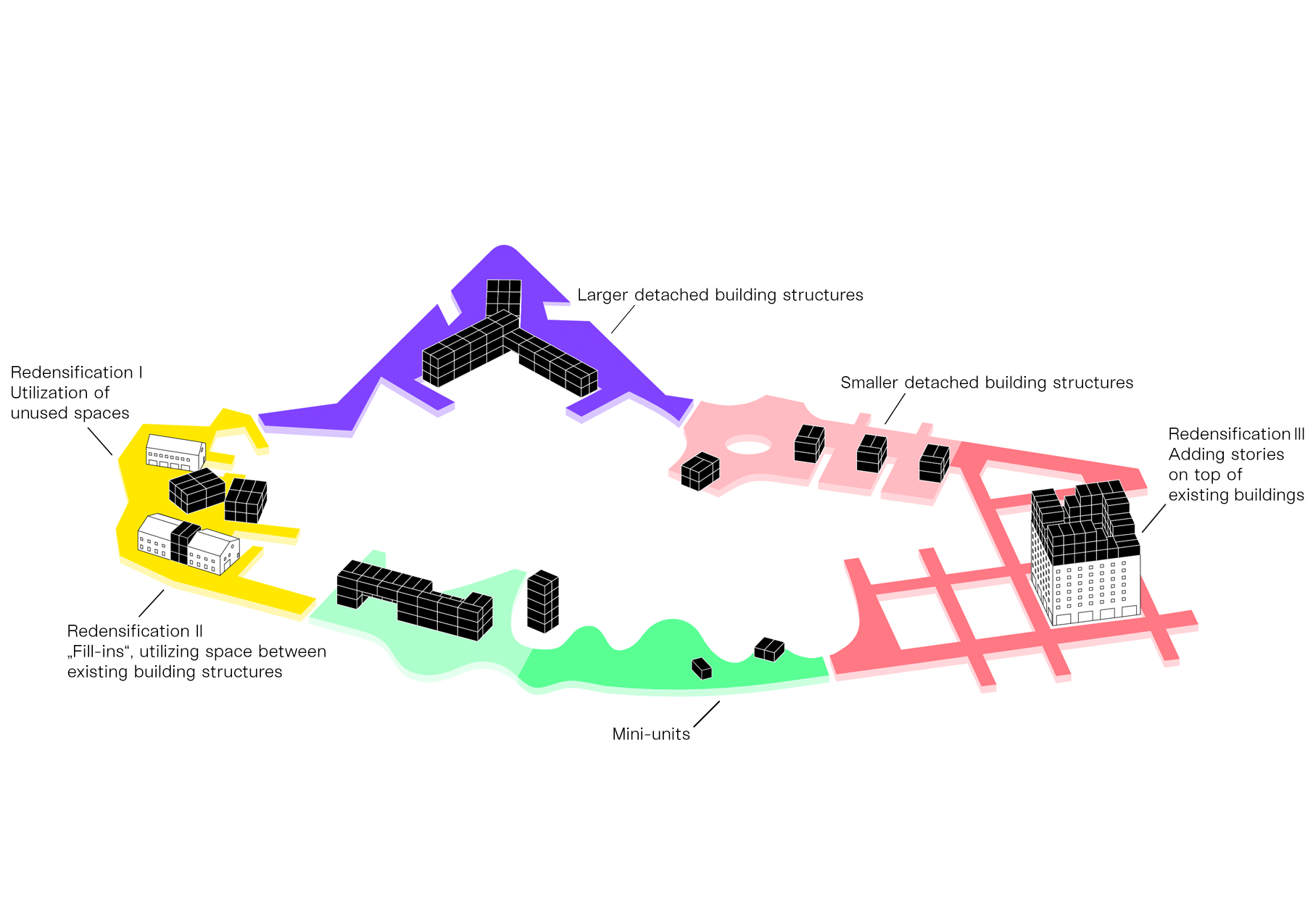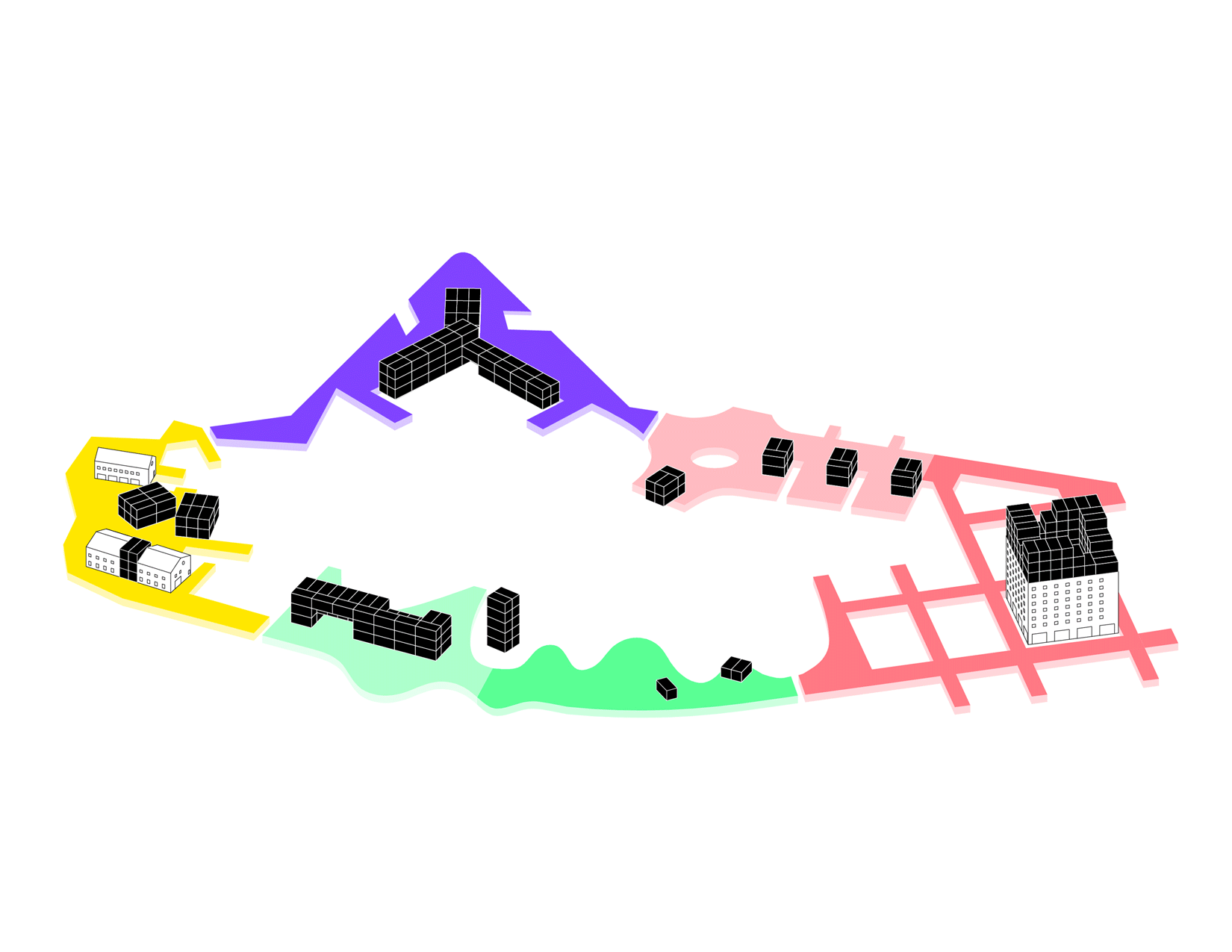 ADPT-buildings can morph into different shapes, sizes and functions within a variety of use scenarios and – if necessary – regenerate and being repurposed multiple times over their lifespan. They can be utilized as detached buildings or for redensification purposes, unlocking new economic and social opportunities for future proof commercial and residential space.
Freedom powered by flexibility
The flexibility of the "ADPT"-system is the enabling factor to reimagine what a building is and can be. ADPT's new degree of flexibility is based on the detachability of building layers and parts. Like a Lego-kit, layers and parts can be attached to each other, detached and reconfigured. All layers can be substituted according to their individual lifespan, facilitating the building's capacity to regenerate like the cell of a living organism and to adapt to changing needs and contexts over time.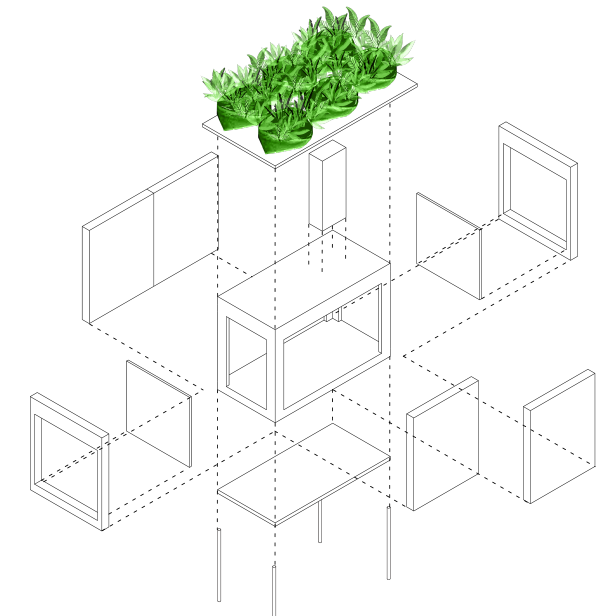 Boosting circularity – from linear to circular to adaptive
Linear processes are energy-, CO2 and resource intensive, increase waste and incentivize planned obsolescence. Applying circular economy principles to the building sector in a way radical enough, to have a positive and significant impact on climate and resource consumption when scaled, requires reimagining the way buildings are conceptualized, planned, realized, operated and dealt with at the end of their lifecycle.
Such a "radical" circular mindset underlays the development of the "ADPT-building-kit". The ADPT-system is keeping buildings, modules, elements and materials at their highest value longer, by circulating them inside of the ADPT-system. The ability to adapt makes sure that the use-phase of buildings is extended. Even at the end of their life-cycle ADPT-buildings are not waste, but material banks on which valuable resources are stored, which can be refurbished, reused and monetized.
ADPT-cycle
adaptive, circular & durable – the ADPT-building
made of circular modules and elements, which can be stacked up to 5 stories
can regenerate
can start big or small, grow, shrink, transform and move
prolonged (re-)use-phase, saving CO2, resources and costs
deconstructed into modules and elements at end of lifecycle (no waste)
circular layers – the building-kit
modules and elements made of circular materials
can cycle through ADPT-buildings multiple times
deconstructed into homogeneous materials at the end of their life-cycle
circular materials – the base
biobased & renewable – "nature designs best"
recycled & aesthetic – "there is no waste, just stuff in the wrong place"
on this "base-level" materials enter and leave the ADPT-system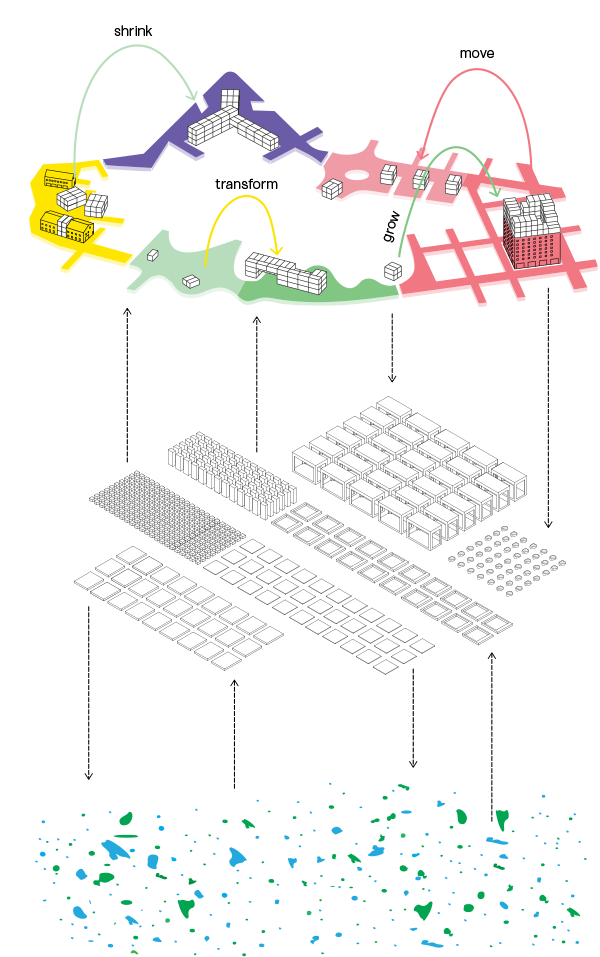 Data from the first prototype
"Building Block No 1"
We successfully completed development phase 1 in 2022, where flexibility of structural elements and exploration of circular materials have been in focus.
Material related circularity
84%
CO2 Emissions versus building as usual (BAU):
50%
2 times durability of building as usual (BAU)
100%
Available for reuse and recycling after lifetime
68%
Aiming at climate positive solutions and zero waste, we made great progress with our first prototype. One example of many: more carbon is captured in the prototype than has been emitted throughout the entire production process, starting with extraction of raw materials. However, this was only the beginning and very first step. Once fully established, the ADPT-system has the potential to become the first climate positive and adaptive solution in the sector.
SDG's IMPACTED BY ADPT (SELECTION)
3 – GOOD HEALTH AND WELL-BEING
7 – AFFORDABLE AND CLEAN ENERGY
8 – DECENT WORK AND ECONOMIC GROWTH
9 – INDUSTRY, INNOVATION AND INFRASTRUCTURE
11 – SUSTAINABLE CITIES AND COMMUNITIES
12 – RESPONSIBLE CONSUMPTION AND PRODUCTION
13 – CLIMATE ACTION
15 – LIFE ON LAND
17 – PARTNERSHIPS FOR THE GOALS
Find out more about the goals here.

Prototype 1 – Folkwang Project 2022
We are thankful for having been provided the platform to showcase the first ADPT-prototype at renowned Museum Folkwang. "Building block No 1" has been a centerpiece of the museums 100-year anniversary exhibition "Folkwang and the city" in 2022, dedicated to urban development and transformation towards a sustainable future.
In the middle of Germany's biggest urban agglomeration international artists, decision makers, local communities and eco-impact-start ups came together to explore the opportunities of a future proof tomorrow.
"Building Block No 1" was utilized to test circular materials and the constructive innovations required for an adaptive building system. Visitors could explore the module and learn how this new construction approach can be a driving force to move us toward a net-zero and low-waste society.
Impressions from site / exhibition opening
Prototype 2 – From circular module to adaptive building
Model project for inclusion and redensification on the basis of an adaptive, future proof and community enhancing buildingsystem.
Partnering with the inclusion fostering social organizations Aktion Mensch, EMMA+WIR and ARUP, F2K has been contracted to explore the beneficial implications of the ADPT-system for a fully accessible and inclusive residential complex. Integrating an adaptive, sustainable and minimally invasive building structure into the local ecology of a specific site and thoroughly adding new building-elements into the context of a beautiful and already existing school-building, has been key in this exploration. More to come soon.
Partner
Successful transformation needs co-creative collaborations. Many excellent and creative minds contribute to the ADPT-development.
Team
Time to grow. In case you…
want to join the challenge to develop the most circular, attractive and future-proof building system
enjoy the culture of an ambitious, committed and companionship-driven start-up team with flexible work-modes
have a proven track record of success or show other signs of exceptional talent in the fields of circular economy, business building, design, programming, AI/BIM/Blockchain, architecture & engineering, communication or project-management
…we should talk. Let us know, what you would like to add to the ADPT-development and what you want to know about us.
Write us at mail@futur2k.com
Stay tuned. More to come soon.
Or connect with us. Stay updated regarding the next Steps of the ADPT-development and share your thoughts with us via social media or mail. Enabling a future proof work- and lifestyle requires joint forces.
mail@Futur2K.com
Futur2K GmbH
Kahrstraße 23
D–45128 Essen
All images and graphics © Arup unless otherwise noted.